Did you know that you can stream live video right on your desktop player? Enhance your listeners' experience by offering an exclusive live video feed on your player via the Cirrus® Player's Ustream player app. Whether you want to broadcast your DJs and talk show hosts live, remotely from an event, or celebrity interview, it's simple to set up.
Your Cirrus® Player is already integrated with Ustream so all you need to do is enter your Ustream channel ID into your Radio Control Panel and the Ustream icon will automatically appear in your player's menu.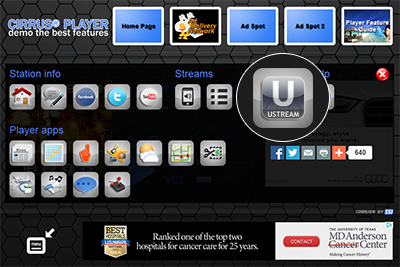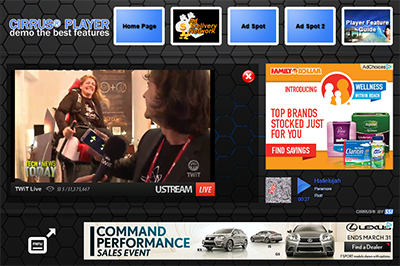 The Ustream player loads seamlessly right into the main section of your player, pausing the live stream until the listener is finished watching. If you're running ads, this just means a longer dwell time... increasing your ad impressions and revenue!
Simply sign up for a Ustream account, connect your camera, and input your channel ID into your Radio Control Panel, under the DESKTOP PLAYER tab. You can enable or disable this on your desktop player at any time using a simple toggle switch, allowing you to display the Ustream icon whenever you have live video available.
View a live demo of how this works on our player here.