Sign up for any streaming plan and we will give you free mobile streaming apps to provide to your listeners (Android and iOS). You can really brand your name, create credibility and build loyalty with these listener-interactive apps that stream your station and broadcast in high-quality HE-AACv2 or MP3. You can upload your own pre-roll ads (banner, audio, video) and banners in the apps, or choose to turn the ad space over to our Ad Delivery Network where we insert ads from major advertisers and share in the revenue.
Once your apps are live in the App Store and Google Play, simply link to them on your website and player to start promoting!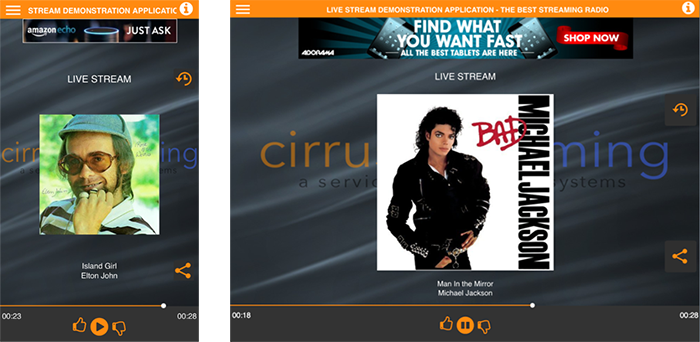 Some App Features
• Flat design style with sleek navigation
• Custom background skins and colors
• Native apps, downloadable in the App Store and Google Play
• Branded with your station's logo and slogan
• Full display of what's currently playing with large sized album art
• Full sized album art on lock screen
• Ad Network to fill your ad inventory
• Run your own advertising: pre-rolls and banners
• Push notifications
• Combine multiple stations on one app, accessed via the "Swap Station" button
• Full podcasting, on-demand playback, and stream backup
• Playlist history
• Song rating with full reporting
• Song request
• In-car song info via Bluetooth
• 'Buy song' for the current song that's playing
• Ability to add custom menu items that link to external websites
• Website and social networking site links
• Live Facebook and Twitter feeds
• Social sharing ability for listeners to share songs
• Alarm clock that listeners can set for the stream or an on-demand file to start up automatically
• Sleep timer that listeners can set for the app to exit upon expired time
Running Ads on Your Apps
You can choose to run your own mobile advertising, a mixture of both your ads and ads from our Ad Network, or just ads from our Ad Network. You can create your own campaigns for pre-roll banners, pre-roll audio ads, pre-roll video ads, and banner ads.