We give you options! Take a look at all of the players we have available when you start streaming with us. All stations and broadcasters receive all players and free streaming web apps, available with any streaming plan. See below for screenshots and click through for live demos.
| | | |
| --- | --- | --- |
| Desktop player with full advertising control, menu with listener-interactive features, top menu buttons, album art and song info, and much more. Built with cross-browser compatibility in mind, it will ensure maximum desktop reach and functionality. | | Fully interactive hyper-media player with endless song and artist data plus auto playlist. Listeners can fully engage and learn everything they ever wanted to know about any artist. As an HTML5 responsive player, it looks great on all desktops and devices. |
| | | |
| --- | --- | --- |
| Fully customizable, responsive HTML5 player that can be embedded in your website or launched as a standalone player, universally streaming on all desktops and devices. With auto playlist, the OmniPlayer seamlessly refreshes at every song change. | | An HTML5 player bar that can be docked to the top or bottom of your website that follows the visitor around your site without interrupting the live stream. The Cirrus® Bar has full advertising capabilities, song info, artist info, and full player menu display. Visitors can minimize the bar or launch the full player. |
| | | |
| --- | --- | --- |
| An HTML5, responsive player that only displays your podcasts in a playlist fashion. Listeners can choose which files they want to play. The Cirrus® Podcaster can be used as a standalone player or embedded on your website, allowing you to showcase your podcasts. | | Allows you to feature individual podcasts on your website. You can choose to either embed one podcast or multiple podcasts in a row, all with a waveform for rewind/fast forward. Best of all, the players are responsive so they adapt to any screen size and device. |
| | | |
| --- | --- | --- |
| The stick player will generate a 300x30 pixel player which can easily be embedded in small spaces via a simple embed code. Player will auto play upon page load and allow the listener to launch the full Cirrus® Player. With its small style, it can be placed anywhere. | | The overlay player will generate a 365x100 pixel player which will be displayed as a semi-transparent overlay. It has no background color of itself, allowing for a seamless design integration with your website. Player will auto play upon page load and allow the listener to launch the full Cirrus® Player. |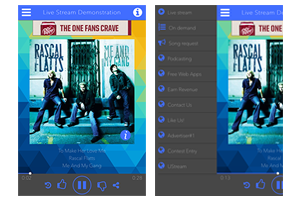 Offer listeners free branded mobile streaming web apps to listen to your stream on the go. The web apps are fully customizable and offer full advertising control. You can really brand your name, create credibility and build loyalty with these listener-interactive apps.