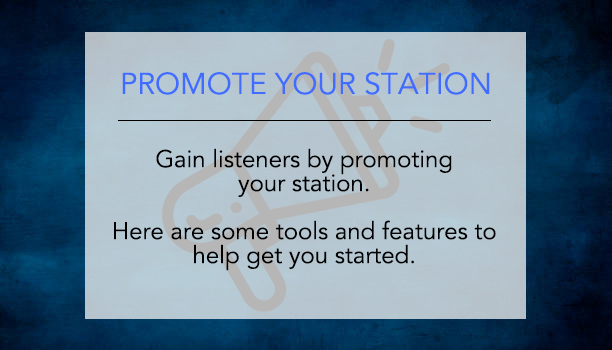 We've got some solutions to help you promote your station. We offer so many great tools and features that can make this process easy. Here are the top 6 ways you can promote your station to get on top and gain some listeners.

1. STATION WEBSITE

Your website is your friendly face on the web. Luckily, our web players can double as a website. Our players are full of options you can enable to make it feel like a site with content, like custom content sections, chat, and more. You can 
contact your personal concierge
 to get you started.
2. PUBLISH UNIQUE CONTENT

Static pages on the web don't cut it. You need a busy site that is regularly updated with content. Adding unique content on your site helps to increase listener traffic and gain loyal listeners. Content that includes information related to your station, genre, city, etc. is important.
3. ACTIVE SOCIAL MEDIA PRESENCE

Stations can never put every caller on air and answer all audience questions. Through social media, stations can reach out to every individual. When listeners are in touch with your brand online, tuning into your station is just one click away. Social media is a shortcut to reach new audiences.
4. GET LISTENERS INVOLVED
Recommendations are powerful. So don't fail to ask your listeners to spread the word about your station. Remember...active radio listeners tend to be loyal.
Some ideas for DJs
"Post a photo on social media and tag us."
"Like our page!"
"DM your song requests on our Facebook/Instagram/Twitter."

5. RECORDED SEGMENTS

Presenting your content in more than one format broadens its reach. Auto-record certain segments and make them available as podcasts/on-demand content for listeners to access at any time.
6. PODCAST SERIES

Podcasts and radio shows aren't that different. Instead of a live broadcast, you'll be allowing people to listen when they want. According to Nielsen Podcast Insights, 50% of homes in America are podcast fans. That's over 60 million homes. If you have podcasts or are thinking about starting a podcast, we can help! Find out more about podcasting 
here
.If you have any questions on how to promote your station or any of our tools and features, 
please let us know
. We are happy to help!