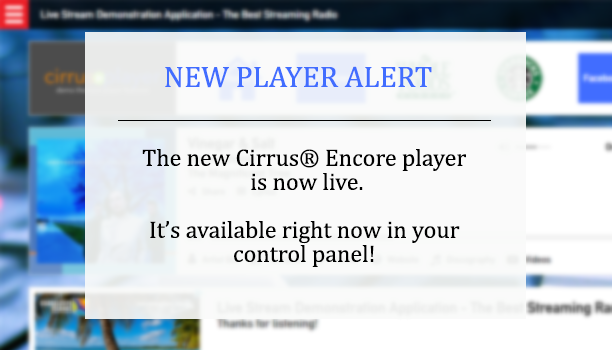 The new Cirrus® Encore player is now available! A seamless, flat-style player that displays your playlist in a scrolling fashion. Allow listeners to become fully engaged by exploring artist info, following along with rating songs, and much more. The player caters to any type of station; you can add any custom RSS feed (or use one of our presets) and it'll add a ticker tape at the bottom of the player. Whether you're a music, sports, news, school or religious station, you can keep listeners informed all while listening.
Click here to view our demo player
If you have podcasts or on-demand content, they will also appear on the Cirrus® Encore player. Listeners can search podcasts by keyword for easy access.
You can fully customize the Cirrus® Encore player by selecting a color scheme, uploading a skin (or use one from our skin library), adding top menu buttons, and enabling/disabling player apps... Plus, you have full advertising control or you can turn the inventory over to our Ad Delivery Network to earn additional revenue.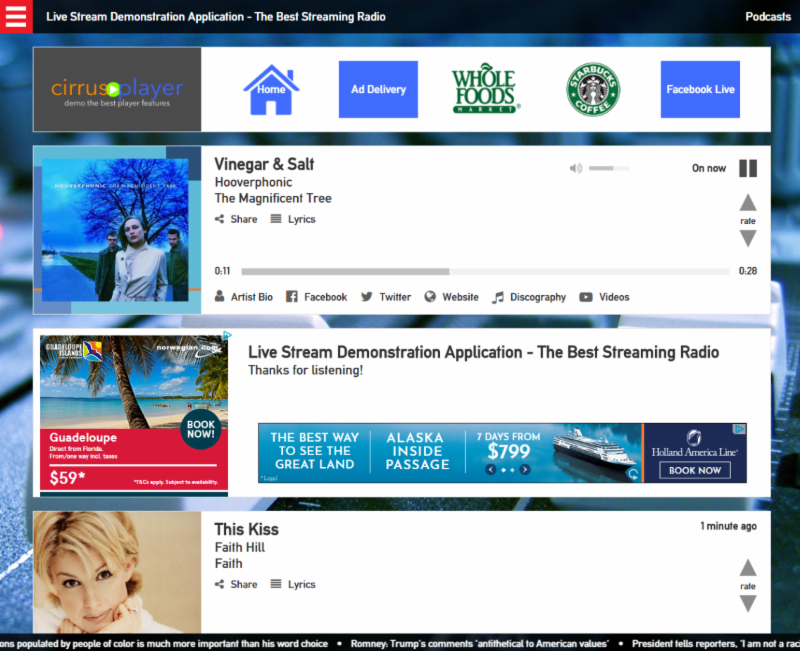 You can embed a standard size (MPU or leaderboard) live button on your website to launch the Cirrus® Encore player. The live button will display the current song playing and complete album artwork if available, with a Play button to launch the player.

It's so easy to embed live buttons onto your website. Under Linking & Embedding, simply choose the Cirrus® Encore player and copy/paste the embed code anywhere onto your website.
Start customizing your Cirrus® Encore player now by logging into your control panel. Please let us know if you have any questions on this new player or any other feature!