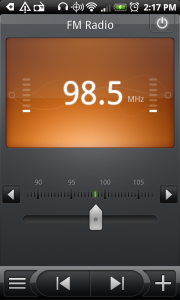 A CEA (
Consumer Electronics Association
) survey shows that Americans oppose mandatory FM tuners in cell phones.
Around seventy percent of cell phone and smartphone users say they are not interested in having FM tuners on their phone.
The study,
FM Tuners for Cell Phones - Measuring Consumer Interest
, found that an even broader majority - 80 percent - does not support a government mandate that would force manufacturers to include an FM radio in mobile phones.
Many broadcasters, along with record labels, have proposed to Congress a compromise performance royalty plan that would include a mandate that all mobile phones sold in the United States include a radio tuner.
"With broadcasters asking Congress to force consumers to buy mobile phones with FM radios built in, we thought it was time to ask consumers what they want. This study proves there is little consumer demand for radio-capable cell phones and consumers don't want the government telling them what features their phones should have," said Gary Shapiro, CEA president and CEO. "For those few consumers who want a radio in their mobile phones, manufacturers offer several dozen such devices that are already on the market."
CEA also found that 75 percent of US adults agree that manufacturers, not the government, should have the final say. Consumers reject government mandates for products and features of their devices even beyond mobile phones and FM tuners.
"Americans continue to want consumer electronics products designed by market demand rather than government mandates. The [consumer electronics] market is the most innovative and growing sector in our economy. We understand that radio broadcasters are facing competition from new services and technologies, but rather than rely on government mandates, we encourage broadcasters to provide innovative services that Americans actually want to use," concluded Shapiro. "CEA and its member companies encourage Congress to leave such unwanted and unnecessary mandates out of any performance royalty legislation."