Radio streaming
can sometimes be confusing...but with us, it's not. We provide you with the tools you need to sign up, get setup, and run smoothly!
Have you browsed our new, updated FAQ section? We're constantly updating it to make sure all of your questions can be found. All questions are separated by topics and there's also a search bar that allows you to find a question or answer by keyword, making it easy for you to find what you're looking for.
You can see what category topics are the most popular among our customers and see what topics have the newest FAQs added. Here are today's most popular categories and questions: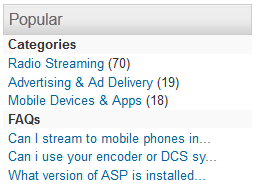 Take a minute and browse through some of the topics you might need help in. Chances are, your questions may be answered. If you don't see your question listed, you can always
submit a support ticket
and one of our support techs can provide you with the answer you're looking for.