Apple has launched a subscription service in the App Store for magazines, newspapers, videos, and music. If you want to start offering subscription services for your talk shows or segments, be ready to share revenue with Apple.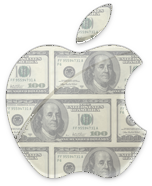 Apple said yesterday that publishers will be allowed to set the price and length of subscription terms and that the payments will be Apple's job, handled within the App Store.
Our philosophy is simple," Steve Jobs wrote in a statement. "When Apple brings a new subscriber to the app, Apple earns a 30 percent share. When the publisher brings an existing or new subscriber to the app, the publisher keeps 100 percent and Apple earns nothing."
"All we require," Jobs continued, "is that if a publisher is making a subscription offer outside of the app, the same (or better) offer be made inside the app, so that customers can easily subscribe with one-click right in the app."
Subscriptions can be weekly, monthly, bimonthly, quarterly, biannual, or annual.
Publishers must provide their own authentication process within the app for subscribers who have signed up for service outside the App Store, according to Apple.