Why pay a monthly fee for music when you can listen to thousands of internet radio stations for free? There are lots of Wi-Fi desktop radios that you can place virtually anywhere and listen to internet radio stations from all around the world, any genre you want at any time of the day. If you really want to, you can also grab many AM/FM stations in the US that simulcast online . . . so it's an all-in-one solution for free streaming content, minus the cost of the device, of course! These devices tap into the web to retrieve content from all over the world via a simple Wi-Fi signal in the home or office.
Below are some of the hottest Wi-Fi radio devices on the market:
Logitech Squeezebox Radio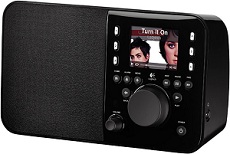 This chic compact device allows you to access your digital music library, internet radio stations, and other online music services. Available in either white, black, or red, you can enjoy music anywhere in your home or office without any wires. It has a 2.4 inch color screen to display album art, screen savers, station information, and more, plus it supports just about any format: MP3, FLAC, WMA, WMA Lossless, AAC, Apple Lossless, WAV, and AIFF.
With 5 speakers, this compact music system delivers crystal clear sound. Simply plug it in wherever you want music and enjoy. Sonos includes more than 100,000 radio stations, shows, and podcasts - all for free. And you can tune in without turning on your computer. Browse for stations or type in specific call letters or a radio host you love. You can also stream music from your iPhone, iPad, or iPod. To get even more out of this device, you can download the free Android and iPhone apps that let you control your ZonePlayer right from the palm of your hand.
Grace Bravado-X Wi-Fi Radio
The Bravado-X can tune into thousands of stations, your personal files, or even services like Pandora or SIRIUS. It is powered by a class D 16-Watt digital amplifier that delivers crisp audio to its rear-ported stereo speakers. Displays station, song title and artist info on a backlit LCD screen. You can control this nifty device using the full-function remote control it comes with, or download the free iPhone app allowing you to change the volume, turn it on or off, find stations, create presets, and more. You can also use this as your alarm clock!

You can place this little guy right on your nightstand or on your desk at work. You can either stream content from their online site or on the device itself using the remote control. Want to relax by the pool? No problem! Battery-operated option allows you to take the device outside the home or office. You can even access the local weather and 5-day forecast.
If you are a broadcaster, you want to make note that the format for streaming ubiquitously to internet radio devices is either MP3 or AAC+. MP3 uses twice the bandwidth of AAC+, meaning that AAC+ sounds twice as good at half the compression rate. MP3 will eventually fade out as more and more stations and webcasters are making the switch to AAC+. Just like cassette to CD, or VHS to DVD, or floppy disc to thumbs drives . . . without change there is no progress, and without progress there is no change!
If you want your listeners to reach your broadcast on all these devices, get onboard the AAC+ revolution with your streaming provider today
.