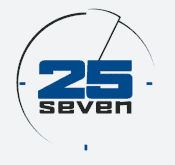 You can stretch or shrink audio programs in real time, allowing additional material to be added with no loss of content, or shortening programs to fill up a time slot with the
25-Seven Program Length Manager
.
The Program Length Manager shrinks or stretches program segments by 5%, or 3 minutes per hour, without pitch changes or glitches and is clean enough to use on stereo music programs and live events.
The unit is easy to setup, operator friendly, and requires little training. Stretching or shrinking a file can be done very quickly - you simply set the input time (length of the original file), the output time (desired length), and rate at which to perform the stretch/shrink.
RadioMagOnline.com conducted an experiment:
"At Radio Free Asia we needed to test the PLM with programs in our nine broadcast languages. We broadcast in Burmese, Cantonese, Khmer, Korean, Lao, Mandarin, Tibetan, Uyghur and Vietnamese. Because these languages all have different tone, pitch and vernacular qualities they needed to be tested separately, at different stretch and shrink times and ratios, to determine the amount of stretch and shrink that could be performed. The results, along with the control audio, were given to a representative from each service to listen to and grade. The listeners were not told what they were listening too, they were simply told to listen and rate the file to let us know if it was broadcast quality. Using the most critical examinations we discovered that in our languages we cannot push the PLM past a 7.5 percent shrink or expand. This allows us to stretch or shrink a 60-minute show by up to 4.5 minutes without the listener being able to audibly tell anything was done to the show. Out of curiosity, we also did our own tests in English and discovered that we could go up to 10 percent with no ill effects."
As you can see, the 25-Seven Program Length Manager can be a very helpful tool in managing time slots. If a segment is too short, stretch it out. If a segment is too long, shorten it. This unit gives you the flexibility to be able to stop the clock or add more minutes to the hour.