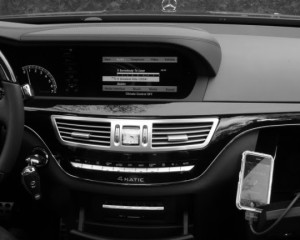 Mercedes offers the ability for drivers to control smartphone music apps through the car's infotainment systems. Drivers can play Pandora and other
streaming media apps
with the Media Interface Plus accessory.
The Media Interface Plus is an accessory that plugs into the car's media interface outlet. They are located in the glove compartment or the center armrest. This device allows you to stream audio from a Bluetooth enabled device. You can stream songs on your playlist, or even stream Pandora and other music apps via Bluetooth.
The Media Interface Plus isn't just an ordinary accessory. It will display the music information on the car's audio head unit and you can even skip from song to song using the radio and steering wheel controls without having to touch your phone.
Considering this is a safety feature worth having, it might be worth the $298 and will eliminate the need to fumble around with your phone while on the road.
In order to take advantage of this feature, you will need the Media Interface Plus cable that currently is only compatible with the iPhone 3G, 3GS, or iPhone 4. This cable will give you the functionality to display the phone's music information on the head unit where you can skip songs, change stations, remove from playlists, 'like' songs (on Pandora) and more. With this cable, you can also play video only when the car is at a standstill.