We would like to introduce our latest strategic technology partner, Orban.
Securenet Systems
is a fully authorized reseller of Orban Optimod and Opticode PC stream encoding products. Orban is a name synonymous with high-quality AM/FM and studio encoding gear, and Securenet Systems is proud to be associated with such a stellar product line.
The Optimod line of products stream your broadcasts in MPEG-4 HE-AAC v2 (also known by its trade name of AAC+ or AACv2), delivering higher audio quality at lower bandwidths than any other audio codec technology currently available. Accordingly, AAC+ delivers
streaming
and download 5.1 surround at 128Kbps, CD-quality stereo at 48 kbps and excellent standard quality stereo at 32 kbps. This level of efficiency fundamentally enables new applications in the markets of mobile, internet, and digital broadcast.

If you want the best in encoding quality for your
AAC+ stream
, then Orban is the name. Orban's Optimod series audio processors pull in larger audience shares with a louder, cleaner and more attractive signal. Whether your signal is AM, FM or Webcasting, Optimod processing will shape your sound for maximum reach, appeal and long-term listenability.
A little more on AAC+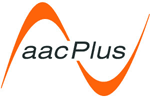 Advanced Audio Coding (AAC) is the latest standardized, encoding scheme for digital audio. Designed to be the successor of the MP3 format, AAC achieves much better sound quality than MP3 at similar bit rates. AAC is also the default or standard audio format for iPhone, iPod, Android, and mobile phones made by Sony Ericsson, Nokia and others, plus webOS-based mobile phones. AAC has also seen adoption on in-dash car audio, especially on high-end audio-head units.
Our latest Version 4 Player System encodes in AAC+ at a base encoding rate of 32 kbps, which is twice the quality of an MP3 or Windows Media stream. If you are not streaming with our latest version player, it's a cinch to upgrade....just holler at us and let us know and we'll get you upgraded ASAP!
If you need additional information on streaming with us using AAC+, or would like information and pricing on the Orban Optimod and Opticode systems, please send an email to
info@securenetsystem.net
.