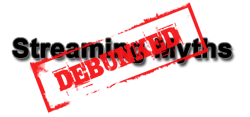 Myth: "Online streaming is not a critical need for my station."
Fact: Online streaming should be a mission-critical part of any radio station's arsenal of marketing tools. Listeners have come to expect their favorite station to be streaming online on their desktop, and their mobile phones. If you are not streaming, your competition is already stealing your listeners.
Look back at the last 100 years and you can see quite a few junctures where radio had to change and adapt to the latest technology in order to constantly cater to its listeners.
Myth: "Online streaming is competition to terrestrial radio."
Fact: Not so…it strengthens it and compliments it. You are simply giving your listeners other options of convenience to listen to your broadcast, how can you compete with yourself? If anything, you're now able to compete against the station on the other side of town who is streaming and where their listeners can listen via desktop, mobile app, third party device, etc. If your listeners can't be around a normal radio for whatever reason during the day, they'll simply find a station to listen to that isn't just limited to the air waves.
Myth: "Online streaming costs a lot of money, doesn't it?"
Fact: Online streaming has gotten increasingly cheaper over the years. The cost of hardware and bandwidth has dropped significantly over the last few years alone, making it quite cost-feasible for even the smallest stations.
Myth: "The royalties will kill me."
Fact: Not so. As far as royalty costs go, most radio stations are small-market stations and fall under SoundExchange's "Small Broadcaster's" license, which is $500 a year. ASCAP, BMI and SESAC royalty fees are in most cases covered under a US terrestrial radio license.
Myth: "I can't make money with online streaming."
Fact: There are several different ways to monetize your listener sessions. If you are going to sell advertising on your player, it's just like anything else you are selling; you have to make it part of your sales and marketing material, educate sales staff and advertisers, and push the product. Or, you can join an ad platform like our ADNet, where we deliver high-paying, quality-brand video and banner ads to your player and mobile apps, and split the revenue with you. Industry online ad revenue for 2011 was over $439 million, according to BIA/Kelsey.
Myth: "Setting up the streaming is very complicated and I am not a techie."
Fact: Our system is so user-friendly and easy to implement, that you don't need to be a techie to get set up and start streaming immediately. Besides, we have a crack technical support team available to assist you with a helping hand anytime you need it.