In order to counteract the much bandied statement that "radio is dying," John Anderson of DIYMedia.net took the time to analyze 21 years worth of FCC data in order to provide a portrait of the current state of licensed radio broadcasting in the United States.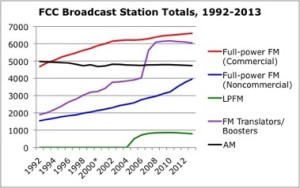 According to Anderson's analysis, radio is still on the upswing, with the exception of AM and LPFM (although that could change after October's filing window). Anderson writes:
"...more than 9,000 new radio stations took to the air over the last 21 years. This includes 1,923 new full-power commercial FM stations and 2,409 full-power noncommercial FM stations. Only two classes of radio station exhibit any decline: AM and LPFM stations. On the AM side, there's been a net loss of 237 AM stations (about 5%) over the last 21 years. Note that this has not been a consistently downward trend, either, with small upticks around the turn of the century, most likely due to the FCC's expansion of the AM band in the 1990s."
Other interesting statistics include the tremendous increase in the number of translator and booster stations in the past 21 years. Additionally, the number of non-commercial FM stations (public radio, college radio, religious radio, community radio, etc.) has been steadily increasing, with more than twice the number in 2013 compared with 21 years earlier.
(Sources: RadioSurvivor.com, DIYMedia.net)