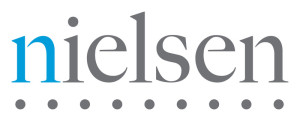 With a $1.75 billion IPO pending, the CFO of The Nielsen Company was restricted in what he could say in the company's Q2 conference call. But Brian West was upbeat in his comments to bond analysts and reported decent growth for the quarter.
The Watch segment, which includes Nielsen's broadcast ratings businesses, posted a revenue gain of 7.2% to $432 million. Adjusted for currency fluctuations, the improvement was 6.6%.Operating income decreased slightly to $85 million from $87 million a year earlier. The company said increased revenue was more than offset by the costs associated with its "Three Screen" measurement initiatives.
Even stronger growth came in the Buy segment, where the company tracks consumer behavior. Revenues gained 9.2% to $800 million, or 8.3% on a constant currency basis. Operating income jumped to $118 million from $103 million in Q2 of 2009. Most of that growth came in developing markets, with revenues from developed markets relatively flat.
Nielsen's trade show business continued to be soft, with the Expositions segment reporting revenues down 17.8% to $38 million, due to "declines in exhibitor attendance." Nevertheless, cost savings paid off as the Expositions segment turned from an operating loss of $4 million a year ago to operating income of $8 million in Q2 of 2010.
In all, Q2 revenues for The Nielsen Company were up 7% to $1.27 billion. Operating income improved to $183 million from $172 million a year earlier.
As he discussed the quarter with analysts, West said growth in the Watch segment was primarily driven by "mid single digit volume increases in our television audience measurement business and with new clients in the US, along with double digit growth in our online and mobile business."
Looking ahead, West said, "we believe we have the right model going after the right products in the market to help our clients grow." The company did not provide any specific forward guidance.
Credit Source: http://bit.ly/a5ntAC