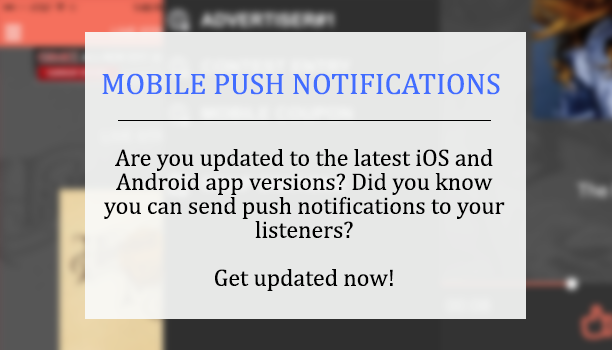 Version 7 is out and filled with many highly-requested features. You'll want to make sure you update your apps ASAP to take advantage of all the new features.
What's available in version 7?
Push notifications
Custom background skins
Full menu and text color selector
Auto-updates on new features
Push Notifications
Version 7 supports push notifications on both iOS and Android. There is nothing you need to enable on your end. Once we update and submit your apps, and the updates are live, you can easily send push notifications any time by accessing the feature in your Radio Control Panel.
Any listener who has the latest app will receive the message you send right on their lock screen if the device is locked or on their home screen if their device is in use. As soon as you hit the send button, the message will be pushed to all devices.
Custom Background Skins
Upon updating your app via the worksheet, you can choose whether you want the background to be a solid color (chosen with a color picker) or images you upload. If you choose images, you will need to upload two sizes.
You can also upload new background images or change the background color at any time by going to your Mobile Apps section of your Radio Control Panel.  This allows full control of your app to customize background images for events, sponsorships, or even paid advertisements.
Full Menu & Text Color Selection
You can also choose the color of the menu, icons, and text within the app via a simple color picker. This is chosen in the worksheet but can also be updated at any time in your Radio Control Panel.
Auto-Updates on New Features
Ensure that your listeners always have the most recent version of your app. We can push most new features and changes to all of your apps' users simultaneously, rarely needing to publish a new version of your app to the App Store and Google Play. These auto-updates make sure that whenever there is a new feature or update, your listeners will not have to update the app. Everything is done automatically on our end!
Take full control of your iOS and Android apps by updating them now. Keep in touch with your listeners by sending them push notifications when you have an important announcement. Please let us know if you have any questions on our latest app.