British digital and internet radio enthusiasts have enjoyed the quality sound and cool styling of PURE products for a good while now. Happily, the company has just announced that three of the range first announced at CES 2010 will shortly be available to U.S. customers. The award-winning EVOKE Flow, the independence-inducing Oasis Flow and the Siesta Flow bedside companion are leading the charge, with others following a little later.
PURE's Internet and digital radios will undoubtedly raise a smile thanks to their cool retro styling but should also please those who want, as Paul Smith (general manager of PURE worldwide) puts it: "the best in terms of value, features, design and quality." The company announced the creation of its U.S. wing at CES 2010 and promised to deliver its range sometime in 2010.
True to its word, PURE has announced availability from July 1 for three of its products showcased during the tech event. The award-winning EVOKE Flow will be priced at US$229 and features integrated 802.11b/g WiFi for access to the thousands of Internet radio stations as well as any media streaming computers, FM 87.5-108 MHz tuner with Radio Broadcast Data System (RBDS) support and an auxiliary input for connection to a portable music player (for when users are out of streaming range). There's also a full drive three inch speaker, touch sensitive controls and a high contrast OLED display.
At US$249, the rugged, rechargeable Oasis Flow is built with the outdoor life in mind. Waterproof and splash resistant (even the detachable aerial is rubberized) and benefiting from a 10W full range four inch drive unit, it offers all of the connectivity of the EVOKE in a grab and go portable package.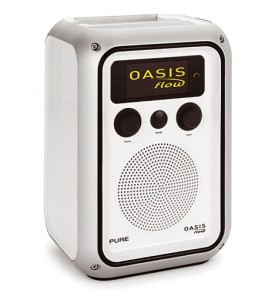 Styled very much like an eighties alarm clock radio, the compact Siesta Flow weighs in at US$139 and comes with access to a different weird and wonderful Internet alarm sound for every day of the year, up to four independent alarms and a selection of ambient sounds to go to sleep to. It'll give 2.3W per channel output from each of its speakers, charge any device connected to its USB PowerPort and like the device's above, is WiFi-enabled and receives FM with RBDS and RadioText support.
All of the Flow range has access to PURE's radio and media portal, the Lounge, where users can organize and synchronize favorite internet radio stations as well as search through recommendations and popular picks. Various accessories to complement the range will also be available.
The company has also announced that its flagship Sensia radio and Sirocco 550 sound system will also enjoy a U.S. release with pricing and availability for each announced shortly.