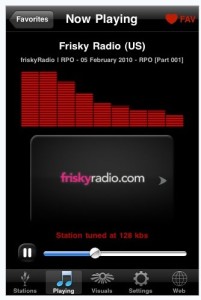 Spark Radio recently launched the only premier radio app for iPhone to feature graphics and social media tools while listening to music.
This new iPhone app allows listeners to enjoy more than 10,000 terrestrial and internet-only radio stations worldwide. Spark Radio projects that by April 2010 there will be more than 30,000 stations streaming.
Listeners can search for stations or programs by keyword, location, or station URL and can browse programming by genre or location. There is also a GPS component that allows listeners to find local stations in any city based on current GPS coordinates.
"We are excited to share the new Spark Radio listening experience with music lovers around the globe," said Terry Anderson, President of Handcast Media Labs. "We have worked diligently to ensure Spark Radio provides the highest quality graphics, radio stations, social features and other functionality that users require in a mobile device today. In a world where media tastes are constantly changing, we are dedicated to offering the best entertainment options for everyone."