Upgrade Your iOS App Today!
Our version 6 iOS app is now available. The new app was created around the same design and functionality as the version 6 Android app -- giving your station's apps a consistent look and feel.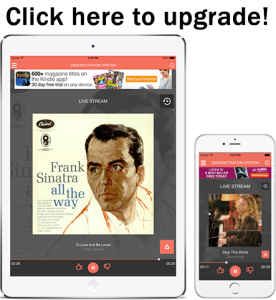 Below are just some of the features on version 6:
* Flat design style with sleek navigation
* Ability to choose app color scheme
* Branded with your station's logo and slogan
* Full display of what's currently playing with large sized album art as skin
* Full sized album art on lock screen
* Ad Delivery Network
* Run your own advertising: audio/video pre-rolls and banners
* Combine multiple stations on one app, accessed via the "Swap Station" button
* On-demand playback
* On-demand stream backup
* Playlist history
* Song rating with full reporting
* In-car song info via Bluetooth
* 'Buy song' for the current song that's playing
* Ability to add custom menu items that link to external websites
* Website and social networking site links
* Live Facebook and Twitter feeds
* Social sharing ability for listeners to share songs
* Alarm clock that listeners can set for the live stream or an on-demand file to start up automatically
* Sleep timer that listeners can set for the stream to stop upon expired time
Make sure you upgrade your iOS app. If you do not have an iOS app yet, click here to get started (you must have an Apple Developer account registered and paid for first).
For more information on our free apps, click here to open a ticket.