Have Unsold Inventory? Let Us Fill It!
We have available on-air campaigns you can start running immediately. If you have unsold inventory,
let us know
right now! We are partnered with several networks to provide commercials that you can use to fill your available spots, allowing you to monetize all of your airtime. We have paid spots and per-inquiry spots, depending on what campaigns are available. All you have to do is either reply to this email,
open a ticket
, or log into your
Radio Control Panel
and go to the orange "Monetize Your Unsold Inventory" tab and complete the form on that page. We'll then review your station and activate any available campaigns, allowing you to download per-inquiry spots on the fly and run them whenever you want and/or provide paid spots (depending on your market).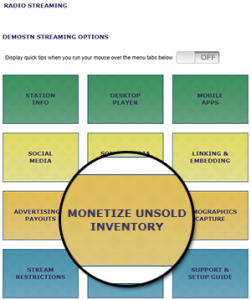 Per-inquiry commercials are one-minute performance-based, direct response campaigns, where advertisers pay a per-inquiry fee for each call made by a listener to the telephone number featured in the commercial aired by your station. You can run them any time, any day, and as often as you want. All the commercials are assigned a unique toll-free number for tracking inquiries. Telephone calls are answered 24 hours a day, 7 days a week, 365 days a year.
We are constantly adding new campaigns so once your account has been activated, you can sign up for email notifications when new campaigns get added! Active campaigns will be available for download via the "Monetize Unsold Inventory" section in your Radio Control Panel.
Please
let us know
if you have any questions or would like more information about spots and per-inquiry campaigns.