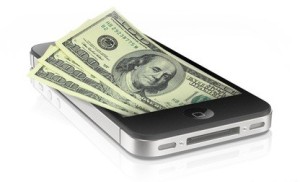 Mobile ad spending is growing. . . and it has local advertising to thank. Over the next few years, we will see a large increase in mobile ad spending, with numbers close to $4 billion by 2015 – from just $790 million in 2010, according to the latest projections by BIA/Kelsey. But a key driver in this growth will be local ads, projected to account for $2.8 billion, or 70 percent of total spending. This is a huge increase from just $404 million, or 51 percent, this year.
Last December, BIA/Kelsey offered its prediction that the U.S. mobile ad revenues will grow from $491 million last year to $2.9 billion in 2014 for a staggering CAGR at 43 percent. But the big spending will come in the form of local ads – currently making up less than half of the mobile ad market. However, it is all slated to change by 2015.
What does this mean for radio? Well, radio stations that don't already stream to mobile should get on the ball…and get on the mobile app trend too, if you haven't already done so. Just as over-the-air advertising drives terrestrial radio, mobile advertising drives mobile streaming. And with the increase of smartphone users, it just makes sense that stations should take advantage of this tremendous growth in smartphone users coupled with mobile advertising. This increase in overall spending equates to an increase in return. . . which, if taken advantage of, could generate a lot more revenue for your station/s. Not to mention, serving local ads to mobile listeners is much like traditional radio advertising - something listeners can relate to on a local level!
Advertising is all about relevancy. Providing relevant, targeted ads to users increases the chances of conversions. With the increased penetration of smartphones and mobile devices over the years to come, local targeted ads will reach a larger audience than ever before. As of December 2010, nearly a third (31%) of all mobile consumers in the United States owned smartphones, according to Nielsen, and they expect smartphones to account for more than half of the US mobile phone market by end of this year. . . showing rapid growth.
The entire online ad world is moving away from 'plays,' using impression-based, geo-targeting instead. This allows you to serve ads to those listeners that are tuning in locally, regionally or nationally. You can have a station in San Jose, California with a listener in New York, and that person is delivered an ad based on where they are, not where the station is. In today's internet of link libraries, listener directories and such, what good is it doing your local advertiser to have someone from 5,000 miles away hear their ad? Well, that's what it's all about . . . serving specific ads, geo-targeted to specific areas. That's the future of mobile advertising.
The growing popularity of smartphones along with the decreasing cost of mobile data usage provides a gateway that assists in major mobile streaming growth. Throw in some local advertising and you've got yourself a major money-maker. As I have said in many previous articles, you need to give the listener what they want. You need to cater to the listeners and in today's world, that means reaching them when they are not in their car, but in the office, at work, on the road, at the park, while bicycling, etc. These days, most people are expecting to see ads of some sort or another, so it is like leaving money on the table to not be a part the mobile advertising boom. The odds are in, the all-seers have spoken, and the charts don't lie.