According to the latest Jacobs Media Technology Survey, a majority of rock radio listeners surveyed have yet to move to listening to radio on smartphones. Most are still listening to RF-based radio. However, about a third of these rock listeners are using Pandora for streaming music, and enjoy using it regularly.
Another interesting finding was the increase in users using their iPod, or other music devices, in their cars with more internet streamed music.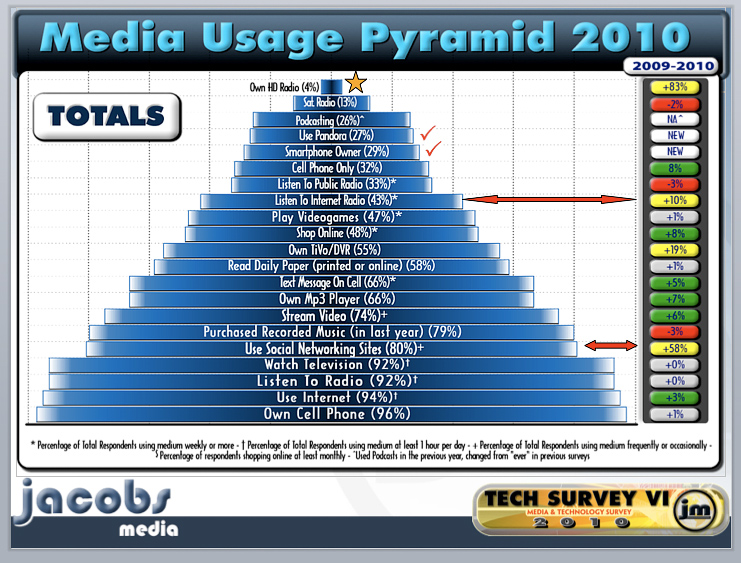 Among the specific findings:
About three in 10 respondents among the polling universe of listeners to rock stations have a smartphone; and of those, 8 in 10 are downloading apps. A majority of smartphone users have owned the devices for a year. More than half of smartphone owners who enjoy apps have downloaded a radio-related app, included "aggregated apps" like Clear Channel's iheartradio, branded station apps, or apps for music services like Pandora.
Among respondents who listen to streaming audio, nearly 4 in 10 access Pandora. "Pandora has momentum, and the majority of those who listen agree it is better for music than most commercial radio stations," Jacobs stated. "It is especially popular among fans of the alternative and triple A formats, as well as smartphone owners." The research company said the study is reflective of Pandora's "rampant growth" and that a quarter of its listeners tune in on mobile devices.
Internet streaming continues to grow. More than 4 in 10 listen to streaming radio at least weekly, "and local station streams lead the way."
Two-thirds of respondents now own an iPod-like device, and of them, six in 10 can now connect them to the vehicles they drive, "signaling more competition for broadcast radio for in-car listening."
Jacobs issued its annual "media usage pyramid." Still at the top, with the smallest usage, is HD Radio, now at 4%; its usage increased 83% from a year ago in this survey.