Customize Your Cirrus® Player Skins
Did you know you can upload your own custom skin/background for your Cirrus® Player? You can do it right in your Radio Control Panel, under the green "Desktop Player" tab. Create a custom player skin to highlight your station's logo, design, brand, match your station's website, etc. You can even offer your skin as an advertising medium for an advertiser or a sponsor. Simply incorporate the advertiser's colors/logo into the design for a full player ad.
Here are a few recent custom player skins our customers have created and uploaded.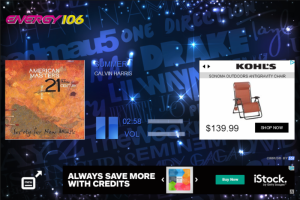 It's easy to upload your own custom skins. You can even preview your player before saving the skin so you can adjust spacing, if needed! You can really brand your station by featuring your logo, by matching your website, or even incorporating artist pictures into the image. Use your skin as a featured advertising slot.... and charge a premium for a "player takeover" ad.
Please let us know if you have any questions about skins, or questions about uploading your own.