The holidays are coming up... Treat yourself to a free Nexus 7 tablet from Securenet Systems. The Nexus 7, made by Google, is a 7" light-weight Android tablet with 16GB of storage. Surf the web or run your favorite Google Play apps (like your station's Android app). The Nexus 7 is a hot item this year.
If you'd like one, all you have to do is prepay for your streaming for one year -or- sign up 10+ streams in one month.
If you only have one or two streams, no problem! You can just prepay for a year. You get your year's worth of
streaming
(no more worrying about month-to-month payments) and a nice gift for the holidays.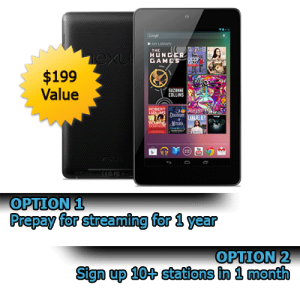 Want more than 1 tablet? If you have more than 1 stream, simply prepay for each stream and you'll get that many tablets. All you have to do is send an email to info@securenetsystems.net or fill out the form here with your station's name to request a free Nexus 7 and we'll get yours shipped immediately.