Internet radio continues to attract more unique listeners.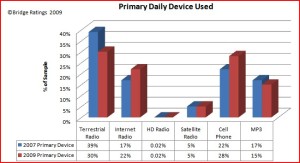 In 2007, Bridge Ratings conducted a study on which primary daily "devices" were most commonly used: Terrestrial Radio, Internet Radio, HD Radio, Satellite Radio, Cell Phone, MP3 Player.
Comparing it to 2009, terrestrial radio dropped 9% while internet radio increased 6%.
More people are listening to radio via the internet than terrestrial. If you take a look at cell phone usage, you can see that cell phone usage increased 6% in 2 years. This increase in cell phone usage correlates with an increase in
online radio streaming
.
There are several free radio apps available for download to iPhones, Blackberries, and other smartphones. This allows for internet radio streaming via cell phones.