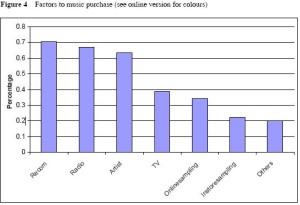 A chart from report by Robert Morris University showing top ways consumers discover music.The first category is recommendations from friends. (Credit: Robert Morris University. )

According to the study by Robert Morris University, they determined that most of their subjects discovered songs via a friend's recommendation (71 percent). That was followed by radio (67 percent), familiarity with an artist (64 percent), music TV (39 percent), and online music sampling (34 percent).
"Online digital music sampling is ranked as [No. 5], implying that online digital music sampling has not yet been fully utilized as an effective product evaluation channel," the researchers wrote.
And when it comes to learning about new artists, song samples are critical, according to the report. Naturally, consumers are wary about plunking down money on an unknown artist. The researchers concluded increasing sample size is "an effective way for consumers to reduce new product risk."