Arbitron's latest report, "Hispanic Radio Today 2009: How America Listens to Radio," provides valuable insight on the evolving relationship between radio and its diverse Hispanic listener base. Here are some key excerpts:
Radio's Reach Among Hispanics Remains Overwhelmingly Strong…
Even with numerous media alternatives through which consumers can entertain and inform themselves, radio's overall reach among Hispanic listeners has remained between 94% and 96% ever since these studies began in Spring 2001; those figures have decreased less than 1% over that time. Among Spanish-dominant Hispanics, radio's reach in 2008 was 95%, and it was more than 93% with English-dominant Hispanics. Whether Spanish-dominant or English-dominant, radio reached at least 91% of Hispanic men in every age group, and attracted more than 91% of Hispanic women in every demographic cell 12-64.
Mexican Regional: The Leader of the Pack
With 330 stations across the country on FM and AM, along with 71 online outlets and 14 on HD, Mexican Regional continued to dominate Hispanic radio listening. This format attracted more than double the audience of the No. 2 format, Spanish Contemporary, at 10 million listeners weekly. It also increased its Hispanic AQH share for the sixth straight year and posted the highest ratings across all dayparts of all the formats in this report.
Radio Formats Ranked by Hispanic Audience Share
Mon-Sun, 6AM-Mid, AQH Persons 12+, Fall 2008
The chart below illustrates a longstanding pattern in which weekday radio listening by Hispanics peaked during the 7AM hour. However, their listening remained strong throughout the morning, rose during the noon lunch hour and at the start of the afternoon commute at 3PM before declining as people returned home from work and shifted to evening activities. However, even as late as the 6PM hour, more than 10% of all Hispanic Persons 12+ were listening to the radio.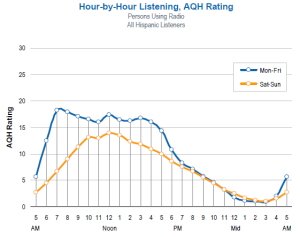 Weekend listening peaked in the noon hour, and without commute schedules, reflected more gradual listening shifts throughout the day. Hispanic weekend ratings grew in relation to weekday tune-in, as weekend reach overall was 71% as high as weekday listening in Fall 2008, up from 69% in Spring 2007 and 66% in Spring '06. Weekend listening was just 1% less than weekdays from 7PM to 5AM, up from 6% less inSpring '07 and 8% less the previous year. Weekend AHQ ratings tied or beat weekdays from 11PM to 4AM.