Run ads from our Ad Delivery Network on your station's website!
In case you missed last week's email or forgot to
contact us
...
Earn even more additional revenue with our Ad Delivery Network by running banner ads on your station's website. Do you have additional space on your station's website that could be filled with a banner ad? We can fill that space for you!
We have three sizes available; 300x250, 728x90, and 160x600. You might notice that your Cirrus® Player has the 300x250 (aka MPU) and the 728x90 (aka leaderboard) spaces. These two sizes, along with the 160x600 (aka tower), are the top-paying banner ad sizes. Just like the ads on your Cirrus® Player, we can display brand-name ads right on your website. All ads are geo-targeted so your listeners will see ads relevant to their location.
If you'd like to participate to run ads on your website, just let us know. Once your site is approved for ads we will send you a small piece of code that you will need to integrate onto your website. Turn your website into a revenue generator, just like your Cirrus® Player.
Take a look at this recent chart by Borrell, a top industry research firm. Radio managers believe that banners are the largest single source of revenue, as far as advertising and marketing.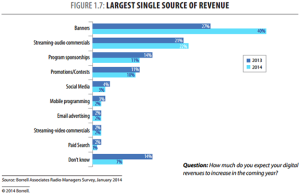 There appears to be a significant uptick in dependence on banner advertising. Last year 27% of radio managers reported that banners were the largest source of revenue; this year the figure zoomed to 40%. Spending on targeted banners is skyrocketing as both national and local advertisers utilize Real Time Bidding (RTB) and other networks to reach specific audiences regardless of what type of site they might be visiting.
So make sure you are properly monetizing your space. If you're not on the Ad Delivery Network to display pre-rolls and banners on your Cirrus® Player, go to your Radio Control Panel under the orange "Advertising and Payouts" tab and choose to "Turn your inventory over to our ad network and share in the revenue." Then
contact us
to participate to display banner ads on your website!