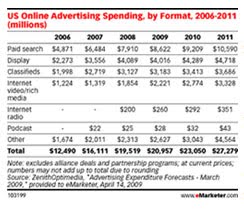 A report from eMarketer predicts
Internet radio
stands to benefit as ad dollars migrate away from the suffering terrestrial radio industry to digital platforms.
Meanwhile, ad revenue for Internet radio is growing and will continue to do so (though the study notes that "those gains are minuscule compared with the billions lost by terrestrial broadcasters"). This year, Internet radio and podcasts will generate $228 million in ad revenue - a 28% growth from last year.
Over the next two years, eMarketer predicts, Net radio and podcasts will experience a growth of 137% to reach $394 million in ad revenues by 2011.
Internet radio is attracting ad dollars for a number of reasons, eMarketer states. Listener numbers are increasing steadily and, with the popularity of smartphones (which are "game changers" for webcasters), listeners are expected to flock to Internet radio even faster. Those listeners tend to be employed, educated, have high household incomes and are young — another plus for advertisers. Finally, Internet radio offers "more options for targeting specific types of consumers and better metrics for measuring ad effectiveness."