A recent study by research firm Coleman offers a glimpse into the behavior of
internet radio stream
listeners.
An estimated 43 million Americans (one in six) listen to some form of audio stream at least once a week. Streaming offers a new form of radio, delivered through consumers' computer, mobile phone, iPad, and other internet devices. Nielson shows that almost 30% of US mobile phone users own a radio-ready, app-friendly smartphone, up from 21% in Q1 of 2010.
33% of consumers are most aware of AM/FM streams. Pandora is the only individual brand that consumers can call to mind; 28% of streaming audio users have top-of-mind awareness of Pandora. Then there's only one other brand that has more than 10% awareness, Sirius XM.
Another key finding shows that streaming consumers use internet only streams in total more than AM/FM streams. Pandora accounts for almost half of the regular usage of internet only streams.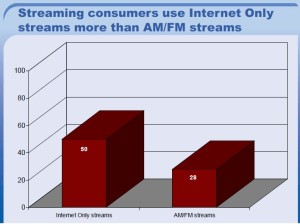 When compared to over the air broadcasts of FM and AM radio, 39% of consumers prefer internet only streams and 31% prefer AM/FM streams…leaving only 15% preferring over the air broadcasts. Since traditional radio is preferred by such a small percentage of people, this tells us that internet streams are becoming a dominant force in radio.
What comes out of these findings? Putting more emphasis on brand building is key. A stream offering compelling content won't automatically find an audience. Having a sustainable streaming service is to have a brand that consumers value and bond with.