Stream Monitoring
Have you seen our newest feature? It is already being widely used by many station owners and managers. It's our new
"Stream Down"
notification feature and it's located at the top-right section of your main Control Panel page above the tab marked "Stream Notifications." Check it out....it's a very useful feature and one that you will want to utilize.
You can receive email notifications by entering the information as applicable. To create the settings, simply add your email address (or as many as you want separated by commas).

You can also receive SMS text messages directly to your cell phone. To create the settings, you simply add your cell phone number, select your mobile provider, and click save, and that's all there is to it.
Short Link for Twitter / Social Bookmarking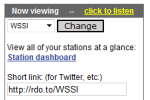 We have also created a
'shorty link'
that is automatically generated when you auto-post your playlists to Twitter. It's "rdo.to/CALLLETTERS," and converts your long stream URL to the short URL link, so that listeners can pop the player from your Twitter playlists. You can find your shorty link in the top-right section of your Control Panel right above the "Stream Notifications" box and can be copy/pasted for use anywhere you wish.
This is an example of how your playlist posts to Twitter if you have it enabled. Every tweet ends with your shorty link, so people stumbling upon your Twitter page can access your player.
Tunein

We have a very close working relationship with
Tunein
to make sure your streams get as much exposure inside....and outside of your market.
Tunein
is a radio stream aggregator that pulls in over 50,000 stations from all over the world, and is probably the biggest provider of radio streams to internet devices, desktops, apps, and automobiles. Listeners in your local market and around the world will find your station on mobile phones, cars, tablets, computers, smart TVs, and internet radios. We are constantly updating our records with theirs to make sure that when someone on Tunein listens to your station, that it pops YOUR player, with YOUR branding, and YOUR advertising.
Most stations that have been broadcasting for any length of time are most likely listed already. You can easily check to see if your station is listed with Tunein by doing a search at the top of the site by station call letters or ID. If you find you are not listed, you can get your station listed by going
here
and simply filling in the few fields of information required, along with your stream URL (located at the top of your player). Just copy/paste that over, and you can also upload your logo. They do the rest, and within 7 - 10 days, your radio station is listed on Tunein.