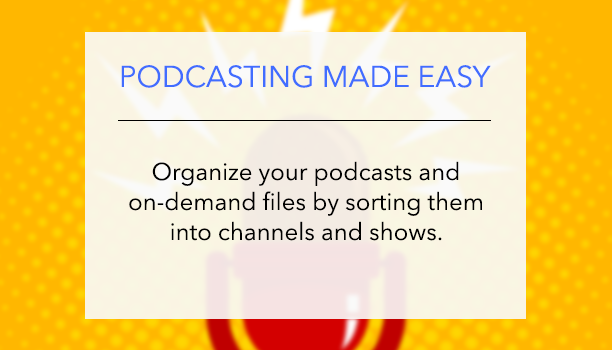 Managing your podcasts should be effortless... that's why we offer a platform that allows you to easily upload and manage your podcasts and on-demand files, so you can focus on what's important -- your content.
With channels and shows, you can really dig deep into podcasting and give your listeners an easy way to navigate to find what they're looking for. Have you started organizing your podcasts into channels and shows? If not, you can start right now by logging into your station's dashboard.
A channel is a broad, top-level categorization of podcasts and can contain one or more shows. A show can contain one or more podcasts.
For example:
Channel A
Show 1

Podcast 1
Podcast 2
Podcast 3

Show 2
Channel B
... and so on.
Once you upload a podcast, you can edit the metadata and then choose which channel and show the podcast should go in. You can group as many podcasts as you want under channels and shows. If no channel or show is selected, it will default to the main list.
The number of channels and shows you can create are endless. You can schedule recordings made via Cirrus® Console to automatically be associated with shows.
Make sure you're taking full advantage of all our podcasting features. Get started right now by logging into your dashboard. If you have any questions or concerns, please feel free to reach out to your Concierge or open a support ticket.