It Gets Better...
Now you can get a Kindle Fire HD, on us. We've extended our pre-pay offer and now you have the option to choose either the Nexus 7 tablet -or- the Kindle Fire HD tablet.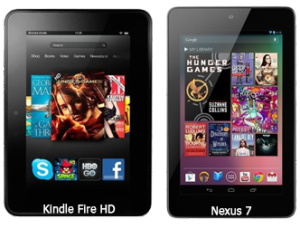 The Kindle Fire HD, made by Amazon, is a 7" tablet with 16GB of storage as well as free, unlimited cloud storage for your Amazon content (your apps will also run on Kindles).

The Nexus 7, made by Google, is a 7" light-weight Android tablet with 16GB of storage. Surf the web or run your favorite Google Play apps (like your station's Android app).

To get your free tablet, all you have to do is prepay for your streaming for one year -or- sign up 10+ streams in one month. If you only have one or two streams, you can just prepay for a year. You get your year's worth of streaming (no more worrying about month-to-month payments) and a nice gift for the holidays.

Want more than 1 tablet? If you have more than 1 stream, simply prepay for each stream and you'll get that many tablets (you can mix and match to have a Nexus 7 and Kindle Fire HD). All you have to do is send an email to info@securenetsystems.net or fill out the form here with your call letters or station's name to request a free tablet and we'll get yours shipped immediately.