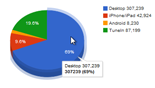 We've just launched our new
streaming stats and metrics section
, tracking all listener habits by day-parts, giving you valuable demographic information. In the past, you may have noticed the ability to see listener stats, but we've revamped this to display in-depth metrics... another feature that makes your job easier!
Our stats program allows you to see all your listeners and track their habits, review charts of specific time periods, see peak usage, unique visitors, bandwidth usage, and break all traffic down by daily, weekly, and annual statistics. The system also tracks banner impressions and click-throughs, plus ad-replacement and pre-roll campaigns. Listener stats are also used to track and calculate royalties. Market metrics are very detailed for your use as needed.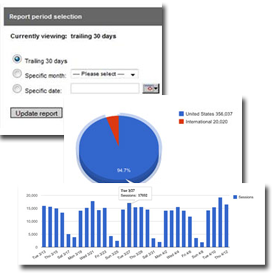 The new metrics program allows you to select days, months, specific date ranges, and even hourly reports to accommodate any type or format tracking and reporting. It also will display revenue earned if you're part of our
Ad Delivery Network
.
You'll be able to track things like US vs. International sessions with a breakdown percentage, what types of devices (desktops, iPhones, Android, etc.) people are listening on, average sessions by day or by hour, daily ad impressions, top countries accessing your stream/s...along with easy-to-read charts.
Take advantage of our new stats and metrics system to help make tracking easier. If you're not yet on our Version 4 player, it's super easy to get upgraded! All you need to do is contact your rep or send an email to
info@securenetsystems.net
and we'll get you on Version 4 ASAP. Not to mention, Version 4 has AAC+ streaming capabilities, song wizard, song playlist, and MUCH more!