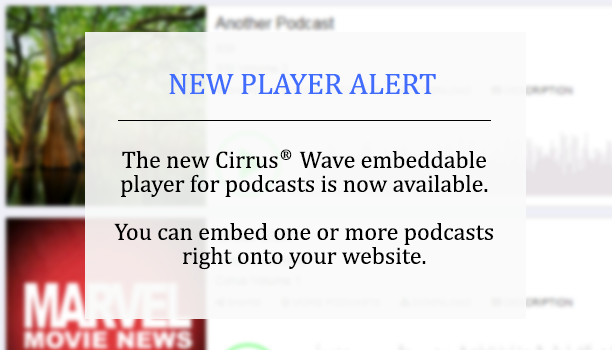 The new Cirrus® Wave embeddable player is now available! You can now easily embed one or more audio podcasts onto your website. It is already available in your control panel, under the Linking & Embedding tab. If you already have podcasts uploaded, you can generate the embed code right now. If you don't have podcasts uploaded yet, you can upload podcast files under the Podcasts & On-Demand tab.
The Cirrus® Wave allows you to feature podcasts on your website. You can choose to either embed one podcast or multiple podcasts in a row.  Best of all, the players are responsive so they adapt to any screen size / device! View our demo page here.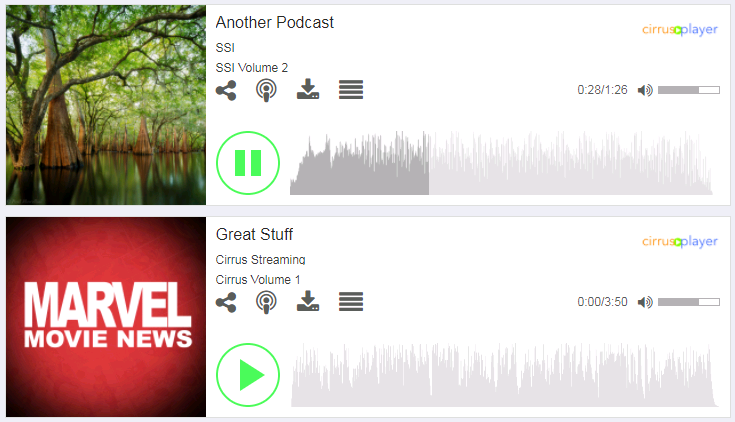 You can play/pause, skip using the waveform, social share, download the podcast, and view the podcast description right from the embeddable player. It also links to your Cirrus® Podcaster player to view all of your podcast files.
It's easy to embed podcasts onto your website. Under the Linking & Embedding tab, simply choose the file(s) you want to embed and copy/paste the embed code anywhere onto your website. It's only meant to embed audio files, so video files will be excluded from the list.
You can start using the embeddable Cirrus® Wave player now by logging into your control panel and generating the embed code. Please let us know if you have any questions on this new player or any other feature!