Radio stations and broadcasters can use our free Cirrus® Console that includes our DCS (Data Capture Software), encoder, and Mixxx playlist program that all work together under one shell. You can choose to just use our Cirrus® Console without Mixxx if you already have your own automation software or playlist program. You simply install, insert your call letters and authorization token we provide you, and everything is automatically configured instantly. No fooling around with entering information... it's all done for you within a few seconds.

Once you're streaming, you have a status window that is displayed in real-time showing you live statistics for DCS, encoder, FTP, and listeners.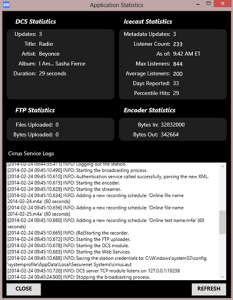 An awesome feature that is available when you are using our Cirrus® Console is the auto recording feature that allows you to schedule times to record your live stream and save it to your desktop and automatically upload it to your player's on-demand section.
The Mixxx playlist program acts just like any playlist program for DJs, allowing you to mix music using your computer. You insert your playlist and start mixing your music, just like on physical turntables. Mixxx communicates directly with the Cirrus® Console to send your audio stream to us. With a customizable skin, you can choose a style that best suits your station.
If you would like to start using our Cirrus® Console, please let us know.