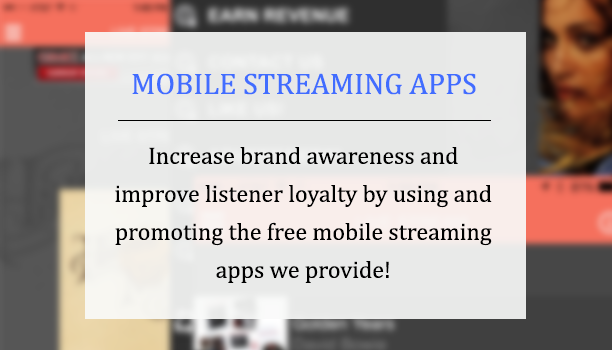 Promoting your free mobile streaming apps is key to gaining and maintaining listener loyalty, increasing brand awareness, and connecting more with listeners. Catering to your listeners is important, so let them know you are there for them no matter where they are; work, school, gym, etc. It's easy to get the word out there, especially if you have app-only material and/or contests available only through your apps. Not to mention, you can increase your ad revenue by increasing your mobile listenership.
Listeners won't know that your station has apps unless you tell them, display it on your website, post it to social media, or by other means. It's important to make sure that your own custom apps are featured as the #1 way to listen on devices. The apps are downloaded and installed so it's a constant reminder to listen on the go.
Many stations offer compelling content available only on the apps. Our apps allow you to create custom menu links. That means you can have listeners access the mobile apps to get mobile related contests, coupons, specials, and more. For example, you can have a mobile-app-only contest entry form -- simply create the form on a webpage and link to it from the apps' menus. You can also provide coupons or specials by creating a webpage containing the offers and linking to it from the menus. All links open within the app.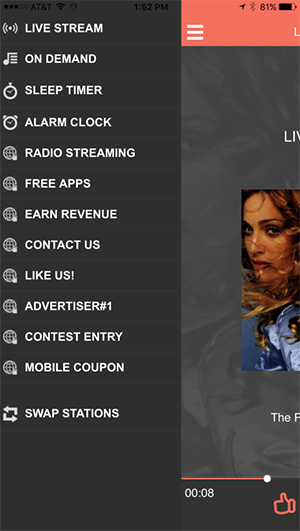 Promote your apps to get listeners interacting. Whether or not you have added contests or specials/coupons in your apps, you need to promote your apps everywhere you can. Here are just some ideas.
Dedicating one or two menu buttons on your desktop player to the iOS and Android apps. Even though they cannot download them on the desktop, it'll serve as a reminder that your station has apps for them to listen on the go.
Add links to your apps right on your homepage near the "Listen Live" button -- somewhere at the top, in a prominent location.
Post and "pin to top" on Facebook. Pinning allows you to keep a post at the top of your page, until you unpin it. This way, it's the first post users see upon landing on your Facebook page.
Tweet links and screenshots of your apps, as well as screenshots on Instagram.
Have DJs remind listeners to download your free mobile streaming apps to listen on the go.
Even if you have a sufficient amount of mobile users, consistently promoting will remind listeners how convenient it is. If you're running the Ad Network, it'll only increase your revenue - which is a big plus! Please let us know if you have any questions about our apps or would like to check if your apps are up to date.