Breville is set to launch a Radio Toaster in Australia, that combines two key devices in a kitchen, a radio and a toaster. The device is already on sale in the UK.
The eccentric kitchen gadget is designed for those that are short of space but love a slice of toast. The radio is DAB and wireless enabled so that users can access Internet Radio stations.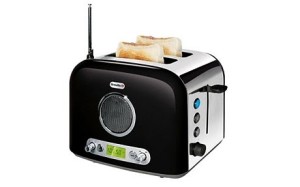 As well as DAB it has an auxiliary input so consumers can connect an iPod or tablet containing music content.
The made in China gadget is expected to be a hit in Australia and will retail for around $79.
"We expect the Breville Radio Toaster to be very popular with our customers" says Ben Fowler, head of product development at a major UK retailer. "It's a quirky, unique kitchen product that'll make a great gift for house proud home owners and couples."
Two years ago, appliance maker DeLonghi included an FM radio in a toaster. That failed to take off.
Also two years ago, Tefal launched the Toast n Egg, which was a toaster with an attached egg poacher, while Electrolux has made a Scan Toaster, a computer printer/heater that allowed you to print a customised pattern on your toast.
Source: smarthouse.com.au