Ping Social Music Discovery Now Available to 160 Million iTunes Users in 23 Countries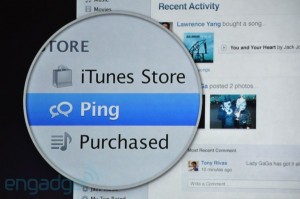 SAN FRANCISCO-September 1, 2010-Apple® today introduced iTunes® 10 with Ping, a new music-oriented social network for following your favorite artists and friends to discover what music they're talking about, listening to and downloading. iTunes Ping lets you post your thoughts and opinions, your favorite albums and songs, the music you've downloaded from iTunes, plus view concert listings and tell your friends which concerts you plan to attend. iTunes 10 also features HD TV show rentals* for just 99 cents an episode and AirPlay wireless music playback.
"iTunes is the number one music community in the world, with over 160 million iTunes users in 23 countries, and now we're adding social networking with Ping," said Steve Jobs, Apple's CEO. "With Ping you can follow your favorite artists and friends and join a worldwide conversation with music's most passionate fans."
Ping lets you follow your favorite artists to see what they're up to, check out photos and videos they've posted, see their tour dates and read comments about other artists and albums they're listening to. You can also create a profile on iTunes to let your friends know who you're following, what you're listening to and which concerts you're going to. There's no better way to discover new music than to find out what your friends are listening to, and Ping's Recent Activity feed shows you their posts about artists, albums, songs and concerts, plus a consolidated Top 10 list of the songs and albums your friends and the artists you follow are downloading from iTunes. In addition to using Ping on your desktop computer, you can take it with you on your iPhone® or iPod touch®,** so you're always plugged into your personal music scene.
With iTunes 10, you can rent your favorite HD TV shows commercial free from ABC, ABC Family, Fox, Disney Channel and BBC America and watch them at home or on the go for just 99 cents an episode. Thousands of episodes are available, many the day after broadcast, to watch on your Mac® or PC, iPhone, iPod touch and the all-new Apple TV®, and you have 30 days from the moment you rent an episode to start watching it, and 48 hours after that to finish it.
iTunes 10 also features AirPlay wireless music playback to listen to your music on remote speakers using Apple's AirPort Express® base station. In addition, AirPlay now works without AirPort Express, using speakers, receivers and stereo systems from companies including Bowers & Wilkins, JBL, Denon and iHome, so you can enjoy your entire iTunes music library wirelessly from any room in the house with no extra gear required.
The iTunes Store® has a catalog of over 14 million songs, over 65,000 TV episodes and over 10,000 movies including over 3,000 in stunning high definition video. With Apple's legendary ease of use, pioneering features such as iTunes Movie Rentals, integrated podcasting support, the ability to turn previously purchased tracks into complete albums at a reduced price, and seamless integration with iPod®, iPad™ and iPhone, the iTunes Store is the best way for Mac and PC users to legally discover, purchase and download music and video online.
*HD TV show rentals require iOS 4.1, which is a free software update available via iTunes 10 or later for iPhone and iPod touch users. iOS 4.1 works with iPhone 3G, iPhone 3GS, iPhone 4, and second, third and fourth generation iPod touch. 99 cent HD TV rentals only available in the US.
**Ping for iPhone and iPod touch requires iOS 4 or later, which is a free software update available via iTunes 9.2 or later for iPhone and iPod touch users. iOS 4 works with iPhone 3G, iPhone 3GS, iPhone 4, and second, third and fourth generation iPod touch.
***Tour info for Concert pages is provided by Live Nation Entertainment, a provider of live recordings to iTunes.
Apple designs Macs, the best personal computers in the world, along with OS X, iLife, iWork, and professional software. Apple leads the digital music revolution with its iPods and iTunes online store. Apple is reinventing the mobile phone with its revolutionary iPhone and App Store, and has recently introduced its magical iPad which is defining the future of mobile media and computing devices.