Check Us Out on Alexa.com
Check us out on Alexa.com and see how well we rank in the US and worldwide. If you have never heard of Alexa.com before, they are the number one website traffic ranking service on the web. We currently rank 22,612 globally and 6,587 in the US (the lower the rank, the better) which makes us the fastest growing streaming provider out there.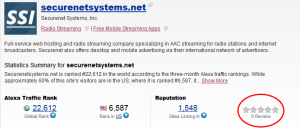 If you love our services, we would appreciate it if you could go to our listing page here and submit an honest review of our company! Once on the page, just click the circled area above to write a review.